Success in the competitive HR software market relies heavily on effective online visibility. This case study provides an in-depth exploration into the journey of HR Cloud, a company known for its customizable HR solutions, as we teamed up to transform their SEO rankings and significantly boost their organic search traffic. From December 2017 to the present day, our collaboration has led to impressive results that surpassed client expectations and positioned HR Cloud more favorably in the online landscape. Let's delve into this SEO growth journey of perseverance, strategic thinking, and astute digital implementation that underlines just how vital SEO strategy is for modern business growth.
The Client
HR Cloud is a leading provider of customizable HR software solutions designed to streamline human resources management for businesses of all sizes. Known for exceptional customer service, they offer feature-rich products including a unique rewards program and a white-label employee app to enhance internal communication – particularly beneficial for remote teams. HR Cloud stands out in the market with its affordable pricing model, making it a preferred choice for companies seeking comprehensive, cost-effective HR tools.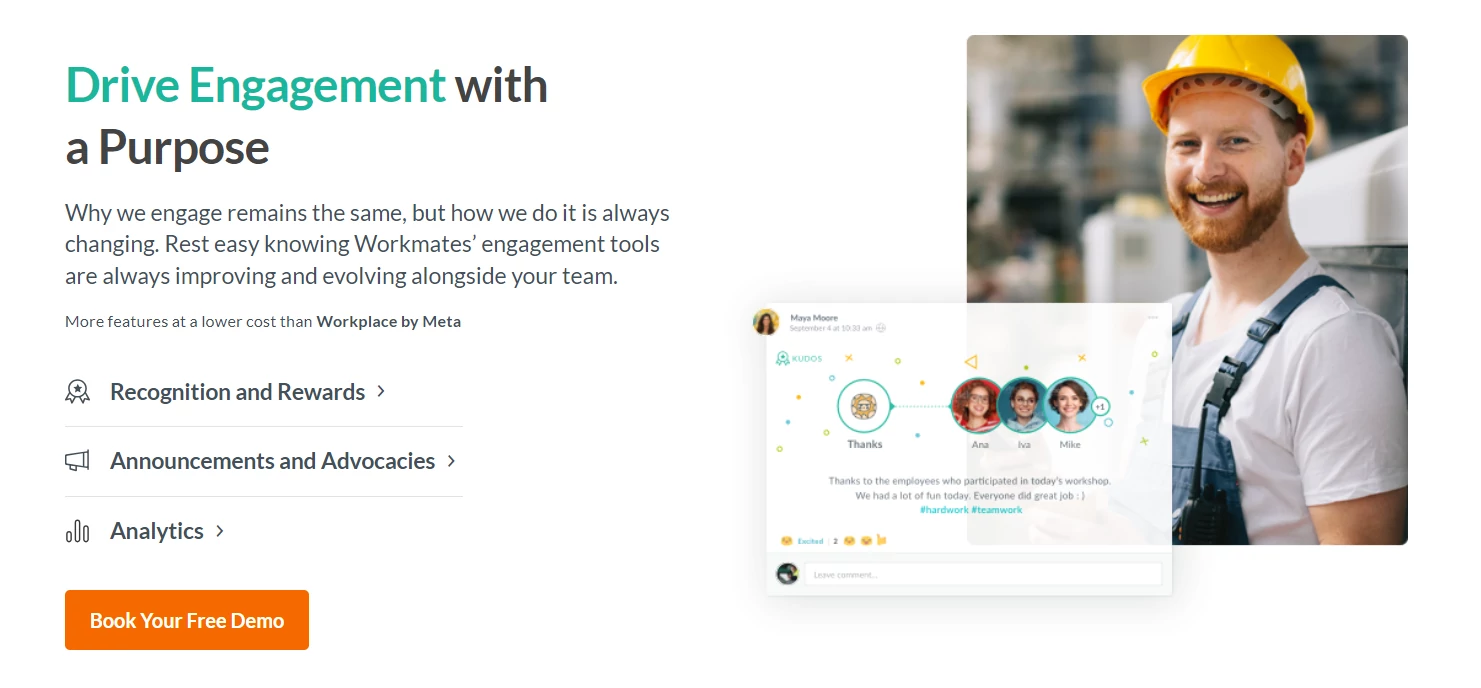 The Goal
As a competitive player in the HR software market, HR Cloud understood the significance of visibility in the digital landscape and aimed to boost their online presence. Their goal was to close the gap with their primary competitor who generated ~100,000 visitors from organic search per month.
The Challenge
When HR Cloud approached Deviate Labs in December 2017, their website was struggling to attract organic traffic, with just 5,100 monthly organic visitors, and 89 keywords ranked in the top 3. Long-term success in the HR software market was contingent on their ability to drive organic leads on a consistent basis.
The key challenges for HR Cloud included rapidly evolving SEO trends, changing Google algorithms, a crowded marketplace for HR tools, and limited resources for content creation. These challenges demanded an agile, robust, and persistent SEO strategy.
The Strategy
Deviate Labs devised a multi-pronged approach, accounting for the complexities of the client's situation:
Frequent SEO Site Audits: Regular audits were conducted to ensure the website adhered to the best SEO practices and to spot potential issues affecting its performance.
Strategic Content Development: Based on meticulous keyword research, Deviate Labs developed relevant and engaging content that resonated with their target audience, fueling their climb in SERPs.
Blogging and Guest Blogging: A steady stream of high-quality blogs provided value to their audience while enhancing their keyword coverage. Guest blogging, in turn, drove quality backlinks to their website.
SEO-Focused PR: Reaching out to preexisting articles that rank well for relevant keywords and negotiating inclusion of HRCloud.com backlinks.
Website Revision: We provided regular recommendations for website page updates, ensuring alignment with the changing SEO landscape and keywords.
Backlink Cleanup: Deviate Labs ensured the elimination of low-quality backlinks, which could harm their SEO rankings.
Keeping Pace with SEO Trends: By closely monitoring changes in SEO trends and best practices, we maintained the website's compliance and competitiveness.
The Results
After five years of continuous collaboration, we exceeded the client's – and even our own – expectations.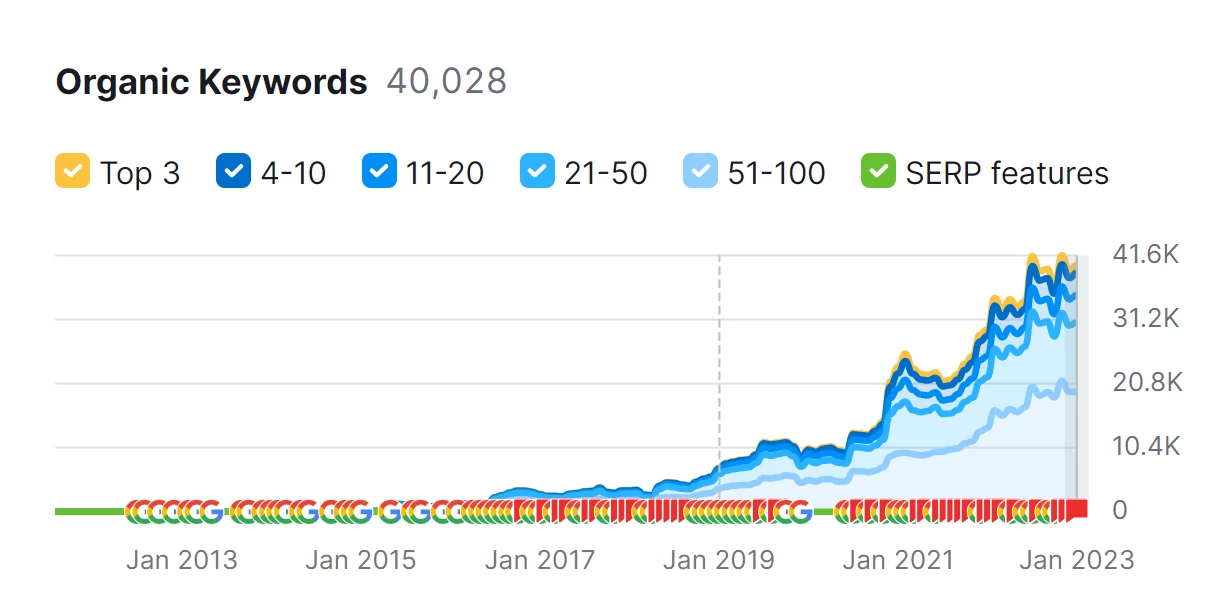 The number of monthly organic visitors increased from 5,100 to 83,300 - a 16x improvement that continues to compound. The number of top 3 ranking keywords skyrocketed from 89 to 1,438, and the total keyword rankings rose from 3,125 to 41,564.
We also saw substantial growth in the rankings of their targeted keywords:
Targeted keyword 1 improved from #6 to #2
Targeted keyword 2 rose from #12 to #2
Targeted keyword 3 climbed from #15 to #2
Targeted keyword 4 jumped from #27 to #4
Targeted keyword 5 moved up from #24 to #8
Targeted keyword 6 went from #14 to #9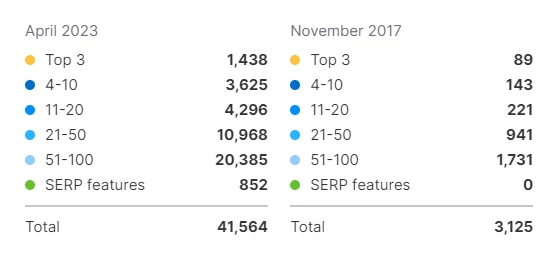 These exceptional results have not only amplified HR Cloud's digital presence but also established them as a leader in the HR software solutions space.
The TL;DR
By adopting a customized and agile approach, we turned HR Cloud's SEO challenges into opportunities for growth.
Utilizing a plethora of effective strategies including frequent SEO audits, keyword optimization, strategic content development, SEO-focused PR and more, the client saw their organic search traffic increase 16x from 5,100 in the first month of our engagement to an impressive 83,300 per month which makes them one of the top SEO performers in the highly competitive HR software industry. Their ranking keywords skyrocketed from a mere 89 in the top 3 in 2017, to a whopping 1,438 in 2023.
Our journey with HR Cloud demonstrates how strategic SEO practices can revolutionize a company's online visibility and bring extraordinary results.