It's far from easy creating a profitable business - let alone scaling it and ensuring your revenue continues to increase. About 90% of startups fail, a depressing number to think about. And yet, that means 10% of them succeed. What's the secret to their success? How do they manage to retain customers and generate new business?
This case study looks at how a small bootstrapped B2B SaaS startup made a successful transition from a small business to an integral strategic acquisition by a larger multinational company. Through a combination of product development, growth marketing management, and sheer determination, the startup obtained the resources and support necessary to grow and eventually be acquired by a $100M company. Here we'll outline the key steps Deviate Labs took in partnership with the startup to achieve their success and how these steps can be used to help other businesses achieve similar results.
The Client
Tapfiliate is an affiliate marketing software company. Founded by a programmer, Tapfiliate's technology is easy-to-use and designed to be intuitive for small and medium sized businesses so they can grow their brand via affiliate and referral promotion. Some of their stand-out features include white-labeled affiliate pages, recurring or one-time commissions for both SaaS and ecommerce businesses, automated workflows, personalized branded links, and a suite of the most popular integrations needed for business owners to integrate affiliate marketing seamlessly into their tech stack.
With one of the most competitive pricing plans in the industry, including a free 2-week trial period for new users, Tapfiliate checked all the boxes for a well-differentiated B2B product when they came to Deviate Labs for growth marketing support.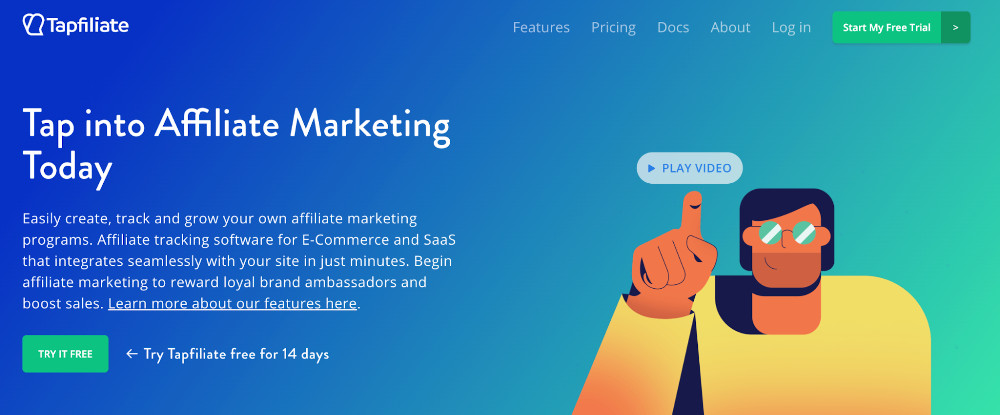 The Goal
As a subscription-based company, Tapfiliate's goal was to increase their monthly recurring revenue. With their free trial model, that goal essentially consisted of two prerogatives in this order: 1) increase monthly free trial subscribers, 2) maintain or increase trial-to-pay conversion rate.
The target audience was global, primarily English-speaking countries, but they also had an interest in increasing their reach in the U.S. market specifically.
The Challenges
At the outset, a challenge arose from the fact that our partnership kicked off in February 2020 - right as the Covid-19 pandemic started to unravel globally. The uncertainty of its impact, and how long the pandemic would last, was something we couldn't know and had to factor into our planning. Interestingly, very early on, we noticed a growing increase in organic traffic to Tapfiliate's site despite the shutdown of businesses all over the world, suggesting a general increase in interest towards affiliate marketing.
This was supported by Google Trends' worldwide data, where March 2020 showed a jump up to the highest peak at that time - a peak now surpassed as searches have continued to grow steadily since then: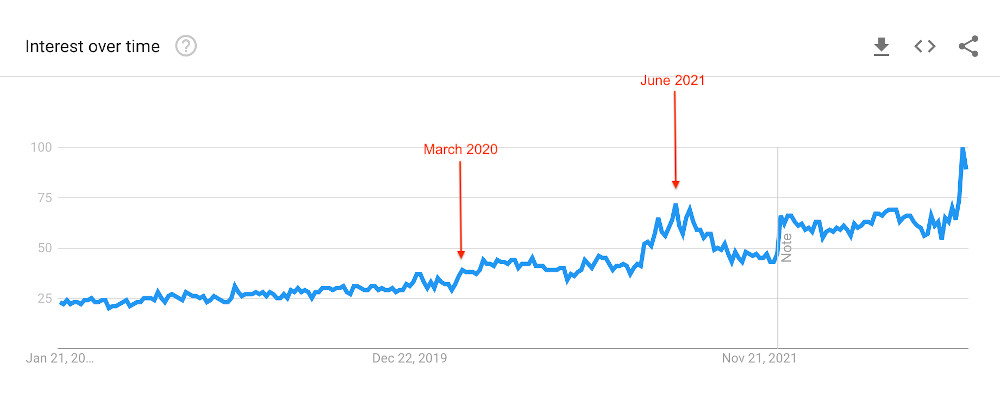 *Source: Google Trends
As it turned out, our very first challenge became a lucrative opportunity as more business owners were looking to adopt online methods for driving growth for their business - and affiliate marketing became a clear cornerstone of that.
After we started managing a large programmatic ad stack — from search, to social, to lead buys on software listing sites — another typical challenge began to emerge that often plagues SaaS companies when they start scaling their paid traffic: spam. When you widen the aperture of your funnel to a global level and test new platforms, you're increasing your brand visibility across all corners of the internet. Add to that a gated free trial signup, and credit card testers will invariably find your site as a way to verify cards. In collaboration with the client's development team, we were able to combat this, but it was a challenge nonetheless.
Lastly, a noteworthy challenge we faced was the onset of a geopolitical nightmare that impacted businesses in the region: the Russian invasion of Ukraine. As a client company with a lot of business in Europe, particularly this region, we had to react quickly on their behalf and adjust and carve out campaigns geographically accordingly across the full programmatic stack to make sure we only spend where we can convert.
The Strategy
Deviate Labs developed a phased marketing plan that entailed the following areas of activity:
Marketing analytics configuration
In-app growth hacking opportunities
General marketing and sales strategy
Programmatic ads (Google Ads, Meta Ads primarily)
Test additional platforms (e.g. LinkedIn, Quora, Microsoft Ads, Twitter, etc.)
Lead Buy Platforms (Capterra, Software Advice, GetApp, Finances Online, CrozDesk
Copywriting & creative leverage
Conversion optimization
Landing page development
Email nurture sequences
Search Optimization
Ongoing meta-information optimization
Alternative SEO: YouTube and other ecosystems where Tapfiliate is listed (Capterra, GetApp, CrozDesk)
Acquire feature placements, social media posts, and other extras from existing and new integration partners such as Shopify
Help expand affiliate partners through grassroots, digitally-focused PR
Direct advertising (identify opportunities and help negotiate down price / get extras; barter organic opportunities alongside paid promotions)
To restate, the goals of the engagement were: 1) increase monthly free trial subscribers, 2) maintain or increase trial-to-pay conversion rate.
Deviate Labs approached these goals methodically and mathematically by determining the client's existing CPA baselines and proposing new budget allocations for each programmatic channel corresponding to its performance. After identifying the highest performing channel to be Google Ads, we set out to determine how much more inventory was available and what tests to set up to stoke Google's machine learning algorithms.
With a high customer lifetime value averaging 16 months and a better-than-average subscription conversion rate of 33%, the client had plenty of wiggle room on their target CPA – which meant ample room for testing. A B2B marketer's dream! With a variety of variables, meaning everything from region, to keywords, to device type, to ad copy and creative, to landing pages and core website pages, we commenced a phased approach to split-testing to discover the "sweet spot" of spend so that we can increase the volume of free trials while maintaining lead quality and likelihood to convert to a paying customer.
We focused around 60% of our efforts on the United States to increase their market-share in this country, while focusing 40% on driving traffic and sign-ups in English-speaking countries around the world.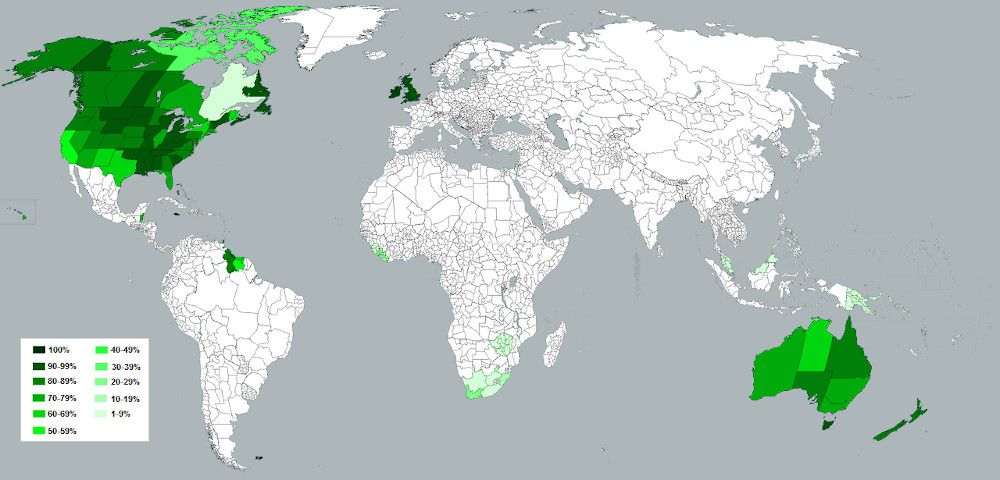 *Source: Wikipedia - Map of English speaking countries
With an international audience, it is important to carve out campaigns geographically as much as you can to capitalize on varying cost-per-clicks and inventory availability. In collaboration with the client's detailed analytics infrastructure, we were able to track customer lifetime value all the way back to the customer's geographic origin. Once we established our campaign testing architectures, and refreshed copy and creatives, we then let machine learning do its work, while making regular tweaks and optimizations along the way on a regular basis to ensure we capitalized on that learning.
In parallel, we experimented with new channels for the client, including LinkedIn Ads, Quora Ads, and lead buy sites such as Capterra, GetApp, CrozDesk, and FinancesOnline. As an affiliate software product targeting affiliate marketers, we knew that marketers often rely on software review sites to make their decisions, so we optimized landing pages for these channels, set up geographic-specific campaigns, and kept enough budget allocated to maintain a high position (#3 and #4) on the relevant categories.
Whether it was direct or assisted, conversions did indeed come from all these channels in varying degrees. This isn't always the case with B2B products – social platforms, for example, may not convert as well as search platforms – but with Tapfiliate's target audience of marketers, it was a safe bet that their customers consume content across multiple touchpoints. And that was an assumption we (successfully) proved.
As full-funnel marketers, our mantra is "a rising tide lifts all boats." Some channels perform better than others, but they all play a role in the buying journey.
In addition to managing the wide programmatic stack, we worked with Tapfiliate to test their website experience and improve conversion rates for both paid and organic traffic, including shortening their multi step signup flow, testing the payment gateway, adding in-app onboarding, and building email marketing sequences.
All in all, the key to our strategy was to experiment, experiment, experiment. Within the bounds established by our understanding of the target audience – ecommerce and SaaS marketers of small and midsized businesses – we set up tests across channels and across the funnel that helped us increase the client's monthly free trial subscribers while maintaining their trial-to-paid rate – resulting in greater revenue.
The Results
Within the very first year of our engagement, Deviate Labs successfully scaled Tapfiliate's monthly advertising spend profitably. Our emphasis on capturing more Google Ads inventory, while simultaneously expanding their programmatic stack to include other channels, resulted in a significant YOY increase in revenue.
Too often, startups will scale spend and struggle to increase revenue proportionally. With the help of a full-funnel marketing agency like Deviate Labs with expertise targeting B2B audiences, Tapfiliate was able to achieve increased revenue and substantial market share which attracted the attention of AdmitAd, a $100M multinational affiliate software company.
The TL;DR
Tapfiliate is an affiliate marketing software company. To manage user acquisition, the team needed a growth marketing agency that offered not only coverage of various channels, but also versatile and innovative solutions for continuing to scale and improve upon their success. The team wanted to work with an agency that understands SaaS software and the mindset of their target customer — small to mid-sized business owners and marketers that want to scale their business through an effective affiliate marketing program.
Deviate Labs created a multi-phase approach to scale and optimize their programmatic advertising to achieve increased revenue. With an emphasis on full-funnel and cross-channel testing, we achieved a 2x increase in spend with a commensurate increase in annual revenue — resulting in the company's acquisition by the one of the largest affiliate software companies in the world.